Gunnar Nylund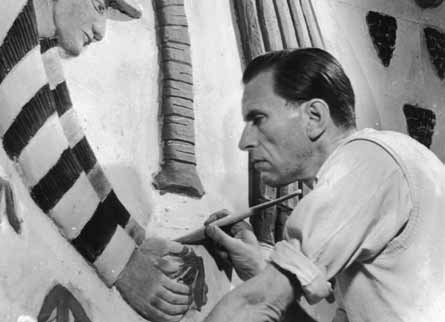 Gunnar Nylund (1904-1997)
Ceramics artist Gunnar Nylund worked both in Sweden and Denmark; what made him famous above all was his work with Swedish manufacturer Rörstrand.
From a very young age, he was raised in an artistic setting, by his Danish mother who was a ceramist and his Finnish father, a painter and sculptor. He himself chose architecture which he studied in Copenhagen in the 1920s. As he could not find an opening in this sector, he used his talents as a ceramist which he had acquired in his parents' studio by working for Bing & Gröndahl. That was where he met Danish ceramic artist Nathalie Krebs with whom he decided to set up his own workshop Saxbo in 1930.
Nylund created pieces by experimenting with new shapes while Krebs worked with enamels. At an exhibition at Svenskt Tenn in Stockholm, Gunnar was spotted by Rörstrand where he was artistic director until 1955.
His work is characterized by a constant search for modern techniques and shapes. He used chamotte, raw clay which is baked at a very high temperature, which he then mixed with modeling clay. He could use it to make objects which "withstand" better, and which do not collapse while they are being made, thus allowing him to create pieces with thinner, more delicate shapes. He created this revolutionary stoneware in matt glazes.
He made a lot of decorative pieces for public spaces, theatres, libraries or banks.
In 1959, he held the post of artistic director at Nymölle. His last project was the creation of his own workshop in Malmö where he worked with glass and metal. Most of his sculptures are exhibited in museums, including the 'Blue bird' which is on show at the Sèvres museum in France.
IN THE GALLERY - Los Angeles
IN THE GALLERY - Paris