About us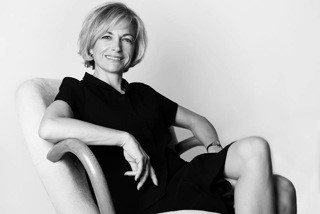 The Galerie Carole Decombe offers a selection of fine furniture and objets d'art mainly from Scandinavia but also presents contemporary artists' works. Installed in her art gallery among the antique shops and galleries of the Carré Rive Gauche in Paris since 2012, Carole Decombe demonstrates that pleasure in business is eclectic and shares with us her neverending emotion at the beauty of things.
You might wonder how she comes to be here in the heart of Paris, in the artistic center for collectors … A few images come to mind, not so distant, but all setting their seal on a story of a passion lived among beautiful people and beautiful things …
After studies in history of art and as a guide and interpreter at the Ecole du Louvre, specializing in architecture and the decoration of large mansions and houses, Carole Decombe's first job was not very far away from her new gallery in the Carré Rive Gauche, working for an antique dealer on quai Voltaire. As a buyer, Carole spent a lot of time at public sales in Paris, particularly in the Drouot auction rooms, and this is where her passion for art, and her eagerness to search for rare items really began and where she gained an educated eye.
Carole continually looks for authenticity in her work, the simplest way of passing on this unceasing emotion at an object, a creation, a person. She likes to set the stage, boldly putting things together, mixing the genres of the 18th century with the decorative arts of the 20th century, contemporary art. This is why she knew, when she opened the gallery that bears her name on 30, rue de Lille that creators had to be part of her story. She very quickly acted as a patron for Diana Lui, a photographer, Jeremy Maxwell Wintrebert, a glass blower, and Manuela Paul Cavallier, who works with gold, wood and pigments. Carole Decombe acclaims the work of these artists, convinced of their talent and their artistic sincerity, although without forgetting the beautiful works of the past.
Her universe today is split between her parisian gallery and the new space she launched on September 2016 at 8629 Melrose Avenue in the heart of the design district LCDQLA. The galleries celebrate a selection of artists whose core motivation of their artistry encourage a dialogue between fine art, craft and creativity. Carole always selects 18th - 20th century rare Scandinavian furniture and curates these decorative arts of the 21st century to create a harmonious dialogue. Both of her spaces are an invitation to discover what would be described as her artistic convictions. "I am fascinated with the creative process and the narrative behind it - the core of craftsmanship. Artwork represented in my gallery showcases the refinement of authentic hand-made objects of art. My collaboration with the artists all encompassing and informs my vision as a gallerist" said Carole Decombe.