Kerstin Hörlin Holmquist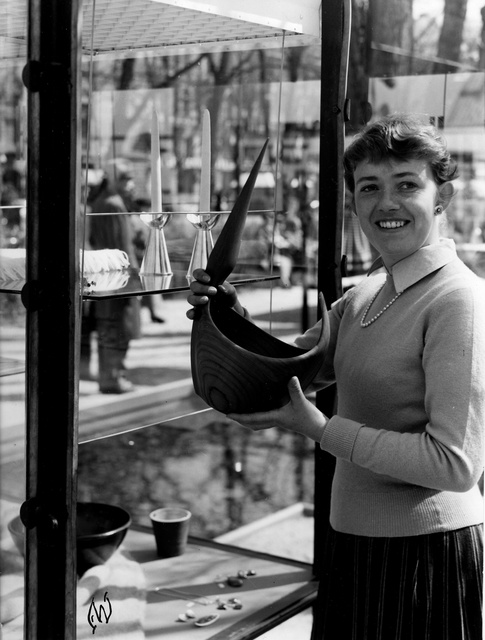 Kerstin Hörlin Holmquist was born on May 30, 1925 in Arvika, and died on February 3, 1997 in Angelholm.
She studied in England between 1945 and 1947, and then continued her studies at the University of Art in 1952; during this period she already displayed her personal creations like her "large and small Kraal" wicker chairs. These chairs, which were tinged with the influence of African traditions, were a mixture of craftsmanship and industrial production, and were presented at Gothenburg during the "52 Möbler 52" exhibition, where they drew the attention of Nordiska Kompaniet which decided to include them in its Triva ("feel good") collection. The wicker seats were then made by NK's workshops in Nyköping.
Kerstin Hörlin Holmquist went on to design furniture and interior fittings for this famous company, she liked soft lines whereas the fashion was straight lines and right angles. She was one of the first to use polystyrene to achieve her purposes; always keeping a wooden structure, she used a combination of techniques to obtain the curves that are so characteristic of her "Paradise" line. This series includes a large and small sofa, an armchair and a stool called "Big Eva and Little Eva" and an armchair and a stool called "Large & Small Adam".
Slightly younger than Nanna Ditzel, she was part of the generation of Scandinavian women designers, like Grete Jalk and Tove Kindt-Larsen, full of fantasy and humor, always rather offbeat!
IN THE GALLERY - Los Angeles
IN THE GALLERY - Paris