Nathalie Seiller Dejean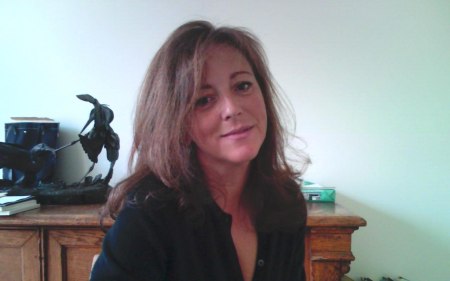 A graduate of the Ecole nationale des Beaux-Arts, Nathalie Seiller Dejean began her career with press illustrations before launching into the creation of accessories under the name of Natacha Domercq. This started by chance, with a pair of linen shoes she painted for a friend. Delage, the flagship of the French luxury handmade goods industry, noticed them and asked her to design a collection for its Palais Royal shop.
She gets her inspiration from art and nature, but especially from her quest for beautiful materials such as ancient lace that she discovers when bargain hunting. Moved by the beauty and meticulous work in these fabrics from the past, she endeavors to refresh them by transforming them. She dyes, assembles, inlays and crafts corsages, brooches, necklaces and arm sleeves, gloves! Her unique articles charm trend-setting boutiques and shops, art galleries or fashion designers like Christian Lacroix, who orders accessories from her for his fashion parades.
For over fifteen years, long before headbands and other head accessories came back into fashion, Nathalie Seiller Dejean explored the possibilities of headdresses, giving them a contemporary, dreamlike quality. Barneys and Takashimaya in New York were the first to showcase them. Bridal headdresses, with their "one day celebration" dimension, allow her to give free reign to her imagination.
Here, there is no gloss or glitter. Gauze, feathers, tartans, porcelain, starfish, Murano glass, Swiss straw are all part of these creations, which enchant through their delicacy and their originality. For the Galerie Carole Decombe, she worked in conversation with the photos by LiLiROZE, bringing to them lightness and poetry. "I pursue a fairy's dream: creating an item of clothing that is the color of time", she says.
IN THE GALLERY