Jeremy Maxwell Wintrebert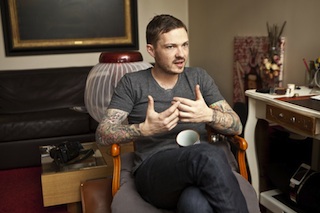 Born in Paris.
Raised on the west coast of Africa.
An adult life spent between the United States and France.
Three concise sentences to describe the (so far) rich and diverse life experience of Jeremy Wintrebert. The creative process has been a major common denominator throughout his journey, along with a strong relationship to craft and arts. Until he discovered hot liquid glass at the age of 19, painting was Wintrebert's main outlet. He also explored metals and clay. Again, just as painting, the process was interesting but there was something missing.
The first time Wintrebert saw hot glass moving at the end of a blow pipe, it was glowing, dancing, dangerous, delicate, mysterious, fast, hypnotizing and very sensual.
It grabbed him deep inside and has not let him go since. To learn the skills and mastery of free hand glass blowing, Wintrebert traveled all over, working in different studios and production shops. California, Florida, Washington, Murano Italy, Czeck Republic and since 2007 he has been living and working inFrance. Jeremy Wintrebert's experience combines working in small production shops to being a part of very high end artistic creations.
The design approach and sensitivity emerged into Jeremy's work since his return to France. Design is such major part of the history of glass in Europe, that it is hard to avoid.
In 2015, Jeremy Wintrebert opened his own glass studio, in Paris.
IN THE GALLERY